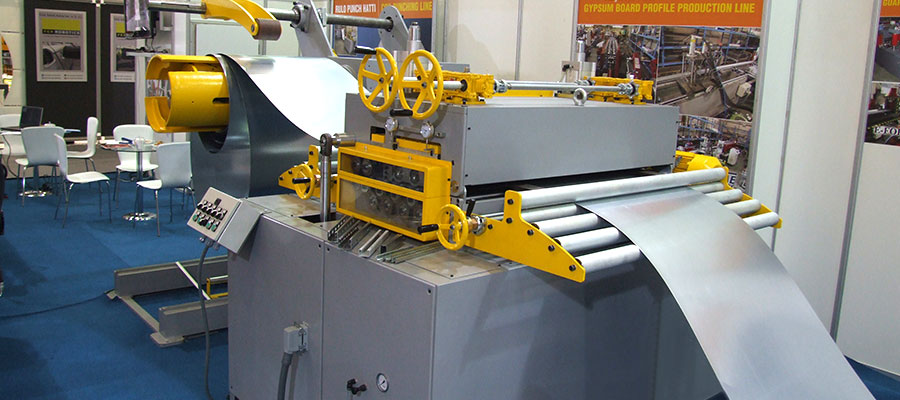 Rigid, bend resistant and torsionally stiff, bolted, steel block body including all steel  transmission components
Parallel shaft helical geared motor with hollow output shaft
High precision roll straighteners are built using high quality hardened and ground steel straightening and feeding rollers.
Back-up roller for wide barrel length
For gap adjustments top non driven straightening rollers are either separately or totaly adjusted using a worm screw-down mechanism by hand wheel or motor.
Bottom rollers are driven by synchronised gears which are powered by direct coupled gear motor to the main feeding roller.
All rollers are supported with self aligned roller bearings.
Motor speed is controlled by frequency inverter to obtain acceleration and deceleration ramps with ultrasonic transducer feedback
Entry and exit feeding (pinch) rollers are activated either pneumatic or hydraulic cylinders.Both forward and reverse operation by manual and automatic means
All models are in compliance with CE mark
Fully documented including operating and maintenance manual in English language
Options:
Lower inlet table with roller conveyor supporting entry peeler
Motorized upper inlet table
Roll cleaning system
Variable loop control systems
Straighteners are used to correct curvature of coiled material which may either hinder passage of sheet stock during stamping operation or cause deformed components in production.
Basic method of straightening is to pass strip being uncoiled through a set of rollers giving a reverse curvature to one already present in the coiled material. EAE straighteners work in the principle of offset mounted set of rollers which are adjustable for varying degrees of curvature. Roller diameters must match material thickness and strength. To facilitate this set of adjustable rollers functioning as group is used allowing a wide range of sheet stock to be processed using the same machine. As the number of rollers used increases straightening accuracy also increases.